Samui
(vocal)
Birthday: 2nd July (Cancer)
Age: 18
Blood type: AB
Height: 173cm
Hair: brown but he likes to dye them often
Eyes: blue (sometimes violet contacts)
Likes: games, spicy food, cartoons, his pet dog
Dislikes: cold
He's always happy and he likes to fool around and tease people (especially Kai!). It seems that nothing can hurt him. Sometimes he can't take things seriously. Samui is kind of Limited Editions leader and He writes most of their songs.
Niki
(guitar)
Birthday: 8th June (Gemini)
Age: 17
Blood type: A
Height: 167cm
Hair: brown
Eyes: brown
Likes: chocolate, ribbons
Dislikes: -
Niki is quite manly. She's little slow to realize things but she has good memory. She is easygoing person but because LimiEds boys are so unconcerned, Niki has to take care every important thing. She's left-handed, by the way
Kai
(bass)
Birthday: 15th February (Aquarius)
Age: 19
Blood type: O
Height: 178cm
Hair: black
Eyes: Green
Likes: drawing, taking photos
Dislikes: -
He is stupid. Because he's bassist. But he's still really kind and friendly, but little goofy. Kai always wears a scarf and he has glasses but usually he wears contacts.
Kazuya
(drums)
Birthday: 6th December (Sagittarius)
Age: 19
Blood type: A
Height: 165cm
Hair: dark brown
Eyes: brown
Likes: games
Dislikes: his brother Miko
Sometimes He is silent but sometimes he is as stupid as Samui. But he's always "cool". Kazu really hates his brother, but he doesn't tell the reason. He's honest person and he doesn't like to hide things. By the way, it's almost impossible to try to wake him up in morning. Kazu is game addict.
Muikku
Birthday: 19th May (Taurus)
Age: He doesn't tell
Blood type: AB
Height: 185cm
Hair: brown
Eyes: brown
Likes: Ice creamHeavy metal, Drama movies, stupid comedies
Dislikes: almost everything
Muikku is Limited Editions manager. Muikku is not his real name. It's just a nickname. He's really irritating and stubborn person. But even thought it looks like he doesn't like anyone, He cares other people (even a little). He has his sensitive side, but he doesn't show that to anyone else!
Dead End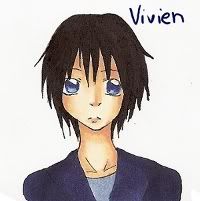 Vivien
Birthday: 30th December (Capricorn)
Age: 23
Blood type: A
Height: 167cm
Hair: Black
Eyes: Blue
Likes: rain
Dislikes: hot weather
Vivien is Dead Ends vocalist and he's very different person when he's on the stage. Normally Vivi is very shy and silent and he doesn't talk very much, but on the stage he is really passionate and full of energy and not shy at all!
Miko
Birthday: 7th July (Cancer)
Age: 22
Blood type: A
Height: 180cm
Hair: Black
Eyes: Brown
Likes: cute girls, fantasy games and stuff
Dislikes: nothing really
Kazuya's big brother and Dead End guitarist. He is very flirty and womanizer, but don't let that deceive you because he's still very caring person. Even though Kazu hates him, He cares Kazu very much. At least he lets everyone think like that…
Elias
Birthday: 1st October (Libra)
Age: 21
Blood type: B
Height: 156cm
Hair: light brown
Eyes: blue
Likes: Spongebob Squarepants, bugs
Dislikes: scary things
One of the Dead Ends guitarist. Elias is very positive person, small and happy.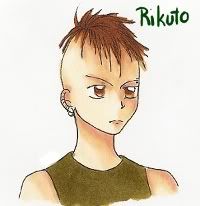 Rikuto
Birthday: 7th March (Pisces)
Age: 23
Blood type: AB
Height: 176cm
Hair: Brown
Eyes: Brown
Likes: Reading
Dislikes: everything which is pink
Rikuto is Dead Ends silent bassist. He speaks only when he's drunk!
Taku
Birthday: 13th August (Leo)
Age: 22
Blood type: O
Height: 169cm
Hair: Black
Eyes: Greenish blue
Likes: cooking
Dislikes: -
Taku plays drums in Dead End. He's little feminine and "drama queen". He loves to cook and his foods are really delicious!
Eve
Birthday: 17th September (Virgo)
Age: 17
Blood type: A
Height: 161cm
Hair: Blond
Eyes: Blue
Likes: cute and girly things, clothes
Dislikes: Kazuya
Eve is Niki's friend, but acts like she would be her mom. She's really girly and silly, but very caring person. She's studying clothe design.